Who Is Jon MacLennan?
Jon is one of the busiest studio musicans in Los Angeles. He's done session work for Julian Lennon (of Beatles family fame), and Steven Tyler (Aerosmith). He has recorded with British pop-star Jamie Cullum on his Gold-winning album.
He also opened up for blues legend John Lee Hooker, performed live on the Disney Channel, and scored soundtracks for major motion pictures and television shows.
Most importantly, he has been playing and teaching guitar, guitar, and ukuele for over a decade with rave reviews from critics and students alike.
I could go on and on about Jon's credentials as a teacher, but so what...
This is all about you.
This is how you can play amazing sounding
acoustic guitar in record time.
Here's a small sample of the guitar secrets you're about to discover:
Buzzing strings when you play chords got you down? Jon is going to show you how to solve that problem right out of the gate.
If you have ever struggled with "Hybrid Picking" you are going to love this. You will master this technique in record time.
Man oh man you are going to be blown away with how musical the "pinch" technique exercise sounds that Jon is going to show you. It only uses two chords but sounds killer.
The simple trick to making your right hand sound as smooth as butter.
Playing with a metronome got you down? Here's how to make it fun and effective.
Turn heads when you learn to play the classic fingerpicking tune "Dust In The Wind".
Write your own songs. Here's a neat little trick that makes it way easier.
Learn how to communicate with other musicians, not just guitarists, so you can jam with anyone.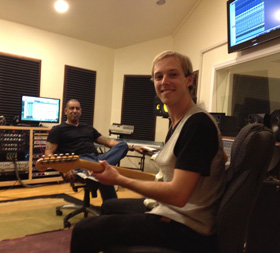 Try this sweet folk style G chord,
it only uses one finger.
If you have ever had trouble muting strings then you need to see this solution that Jon calls the "sneaky move".
Want to have a pro sound? The thumb muting technique will take you from amateur hour to the pro level.
Jon says "each string is like a different voice" and you are going to learn how to put them altogether and sound like a mini orchestra.
Learn to use your thumb to play some sweet sounding chords that you could not do otherwise.
Master the walking bassline.
This is one of the Beatles' biggest secret.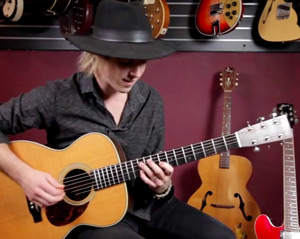 Discover a sweet sounding A minor chord that only uses two fingers?
Impress your friends with these cool alternating chord voicings that incorporate open strings and just two fingers.
Learn the iconic song Blackbird by the Beatles.
I bet you'll go bananas when you start playing this sweet folk fingerstyle pattern. You'll only need your thumb and first finger.
Have you ever thought about using clawhammer guitar techniques on guitar? Me neither, but it sounds so awesome.
If you really want your playing to stand out you've gotta learn how to use the brush stroke and get that sweet percussive sound.
Did you know that you can use classical guitar techniques in folk music? Master it in record time.
Sound like a seasoned professional.
Tone is often what separates the pros from the amateurs. Jon will show you the gear that the pros use to get the best sound possible.
If you have ever been confused on how to use a capo properly you are gonna love this.
You're friends will be blown away when you master "carter style" guitar playing and Jon will show you exactly how to do it.
Wanna breath new life into those old chords?
Then you will love the hammer chord technique.
"Tears In Heaven" is the holy grail of acoustic songs and you will impress your friends and family when you bust out this iconic tune.
If you want to sound like a seasoned veteran of the acoustic guitar you gotta know these sweet Eric Clapton licks.
Did you know you can mix Jimi Hendrix style thumb chords to replace chords you already play?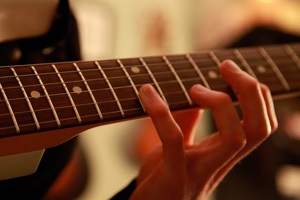 Learn to use hybrid picking to spice up the simplest of chord progressions.
Jon shows some sweet chord voicings that make your guitar sound like a piano.
In addition to rock solid guitar technique,
you're going to learn a sweet selection of
some of your favorite songs.
Even better, you can use the simple, powerful techniques Jon will show you to play ANY song you want. Again, all you need to do is to combine some basic chords with some tried-and-true picking patterns.
It's NOT that hard... and by the time you finish watching these videos, you'll know exactly what to do.
Every inspiring guitar player will love
this exciting, eye-opening course.
Owning these lessons is a no-brainer move.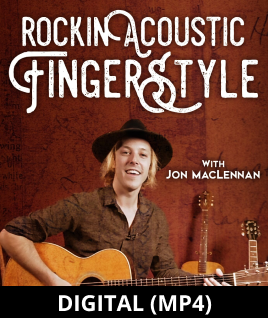 Virtually every guitar student can learn some valuable techniques and tips from these groundbreaking course. Even if you learn just one new idea, you'll reap the benefits for years. In fact, my goal is to ensure you get a lifetime of enjoyment from your instrument.
And another really nice thing:
Learn at your own pace.
You're in control of your learning.
You'll never fall behind, because there is no schedule to keep up with.
Just watch these lessons on your own, at your own leisure. Try as many of the techniques and exercises as you want. Then, learn the songs and pieces that inspire YOU. You're in charge.
It's completely up to you. Once you get access -- you can watch them whenever you want, so there's never any deadlines.
Best of all, you can get this entire course at a rock bottom price. We're planning on selling these lessons in the near future for as much as $97.
Please take advantage of my
"Special Launch Price".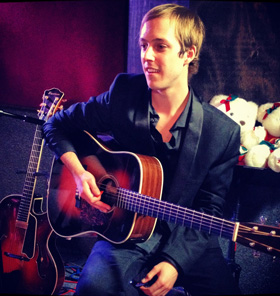 However, because this course is new, I want to celebrate the launch... Just click to the next page and you'll get several low-priced offers.
With "Rockin' Acoustic Fingerstyle", you're getting dozens of intensive, concentrate nuggets of powerful information that you can watch over and over... information that can make your musical journey easier and more fun.
Jon charges "big bucks" for studio session work and private lessons. And even if you could fly down to California I could only teach you about 10% of what's on these lessons in the same time period.
I honestly feel this is the best guitar learning value offered anywhere.
Rockin' Acoustic Fingerstyle
vs.
Private Instruction
I'm certainly not going to knock one-on-one lessons. However: they usually end up costing a small fortune.
And far too often, they drag on for years with the student never really developing their sound, their technique, or a repertoire of sweet songs and pieces.
Now, look at this chart..

As you see, you'll save thousands of dollars by purchasing "Rockin' Acoustic Fingerstyle". This is a systematized course that will give you the insider secrets you need to play like a pro. I'd like to make your decision easy. So, here's the deal... If for any reason, (or even no reason at all) you decide this course isn't helping you reach your goals, you can send an email and I'll refund every penny immediately. There's no fine print and no hassles.
You're protected by my 100% Total Satisfaction
Unconditional Money-Back Guarantee.
There are no strings attached to this offer. I stand behind my work and I know you'll be happy with this course. And if you're not -- don't worry because I will offer you a complete 60-day, no risk, 100% money-back guarantee.

Order this World-Class Guitar lessons... watch them... then grab your guitar... pick a few rolling notes... and then play a song just to prove to yourself that...
You've become a really respectable player
faster than you ever thought possible.
If it doesn't happen, simply send a quick note and I'll see that you receive a prompt refund of your money, no questions asked.
Am I Crazy? Or is This Course that GOOD?
I can afford to be so generous... because I know the TRUTH. You see... this system really does work! It's amazing, it's almost like magic because it shouldn't be THIS easy and simple... but it is.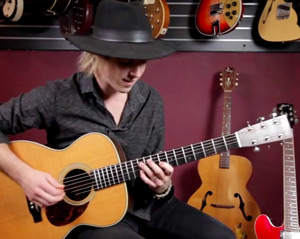 Just imagine inviting your friends and family over and blowing them away with some classic songs.
Jaws will drop and respect will be earned. It's up to you whether or not you let anyone know you learned the secrets from me.
It's a no-brainer decision, so please click on any of our Amazing Offer, fill out your information, and you'll soon be the proud owner of the "Rockin' Acoustic Fingerstyle" course that will reward you for a lifetime.
Here's how to order. Just choose below and click it and this will bring you to the order page. Then, just fill in your information and that's it.
Don't delay -- choose on our Amazing Offers and click it right now!