Dear Soon-To-Be Awesome Guitarist,
Has playing the guitar been a lifelong dream of yours, but it feels daunting, confusing, or even frustrating? Has your guitar been collecting dust?
Do you wish you could quickly conquer the basic techniques like strumming and picking, and start having FUN playing your favorite songs?
Are you confused about what you need to learn, in what order, to make playing the guitar easy?
What if you had a great teacher guide you step-by-step with proven shortcuts (that have been effective for thousands of students), for playing great guitar in record time?
Well if this sounds like something you're interested in, keep reading because this letter will be the most important thing you read today, maybe the most important thing you read EVER. That's because I'm about to show you how you can fast-track your learning curve in record time.
Let me tell you a story about a guy named Steve and his musical
journey to fulfilling his dream of becoming a good guitarist...
It's important because his story is one I've seen over and over.

Steve grew up in the 70's, listening to Bowie, Clapton, The Beatles, Zeppelin and Hendrix.

Those were the guys that blew his mind years ago... and still do.

Now in his 50's, Steve's nearing retirement. Finally, with the kids out of the house, and a career that's lasted some decades... he's got the cash to buy himself a guitar and a little bit of time to himself to pick up a hobby and play.

So he buys himself a brand new Fender acoustic guitar, and an instructional guitar songbook with it... so he can play some of his favorite songs from the 60's and 70's.

But learning ain't as easy as it used to be.

A couple of weeks go by and Steve's been struggling to grasp even the basics. Even the "easy" songs seem hard. "Ya can't teach an old dog new tricks" he tells himself.

A few months later and Steve's acoustic Fender has been sitting in the corner collecting dust. But he's still got hope. Everytime he looks at his guitar he wishes he could play it. It would make him feel so good to play a couple of licks, or one of his favorite Beatles songs.

Then one day, as Steve is online, he stumbles upon a website that helps people play guitar...

Steve starts getting guitar lessons in his email inbox, and for the first time he starts to play a couple of songs cohesively on the guitar.

Some of the lessons were too "fast" and advanced for him, but a couple of them got him playing a song or two that actually sounded like real music. When he played, it didn't sound amazing, but the sounds were cohesive enough to recognize the song.

For the last few weeks Steve's been watching lessons, leaving comments and asking for easier material to help him play more songs... get the right rhythm and play those dang barre chords.

Well here at Guitar Control, we received Steve's feedback, and we realized a ton of people want a course that would help with the basics and a little bit more (even for an absolute novice), and do it in record time.
You Asked... We Listened! Finally...
Introducing: Zero To Hero In 10 Days.
Yes. "Zero to Hero in 10 Days."
That's the name of our newest guitar instructional course. And perhaps the most important one we've released yet.
When we received hundreds of comments that asked for slower paced, easier and simpler guitar lessons on the fundamentals...
We realized we had yet to create our most important instructional guitar course: The one that takes beginners, that have dabbled with the guitar, and turns them into a great sounding guitarists... that can play any song they want to learn on their own, without a teacher... and in record time.
Imagine hearing a song on the radio... and be able to figure out how to play it on your own in just a couple of minutes.
This course is perfect for beginners, and especially for guitarists that have had a guitar for a while, dabbled with it, but haven't gotten to the level they've always aspired to.
Forget expensive private guitar lessons... end your search online for tabs and quick lessons.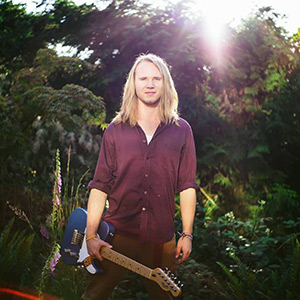 We've put all the basics and fundamentals of playing awesome sounding acoustic guitar all in one course to get you up and running in just 10 days.
Lacking Motivation And Inspiration To Play?
Zero To Hero Crushes Your Confusion, And Puts You
On The Fast Track To Playing The Core Guitar
Techniques With Ease.
Play the most essential strumming patterns. Getting your strumming rhythm right is the most important thing to get started playing songs. With these 3 strumming patterns under your fingers, you'll be able to easily play hundreds of songs on the guitar.
Barre chods. Finally get those darn Barre chords down... so you can play a whole variety of sounds throughout the neck... plus all sorts of riffs, rhythms and much more.
Strumming techniques that add a ton of movement to your playing. Ever wonder how artists can make a couple of basic chords sound like an entire melody? It's with these totally awesome strumming techniques that you'll discover in Zero To Hero.
Fingerpicking fundamentals. This section is really hot. You'll get the do's and don'ts of fingerpicking. And after playing a few famous songs that use fingerpicking you'll have the ability to fingerpick and have fun with it.
The basics of arpeggios. Not too sure what those are? Don't worry about it. All you've got to know for now is that playing arpeggios adds a whole new dimension to your sound. The best part? They're pretty easy to play, once you're taught the trick to 'em.
Everything you need to know about playing chords. You'll discover how to spice up your basic chords, how to add and remove notes from chords, the best way to do a barre chord, and different chord techniques that'll allow you to improvise and almost sound like you're playing lead.
By the end of these 3 fun hours of Zero To Hero... you'll be a way better acoustic guitar player guaranteed... even if you totally suck today.

Is it Possible to Make More Progress In The Next 10 Days Versus The Entire Time You've Owned Your Guitar?
If you've played guitar for years already, then that probably sounds crazy.
However, Mike's system has been battle-tested and has been proven effective for literally thousands of students who've gone through his programs at the Vancouver Guitar school.
And for the first time ever, we've captured his teaching magic on beautiful high-def DVDs. So, I seriously would not be surprised if you double or triple your skills in a very short term using these DVDs.
So, why is this system so darn effective?
Two reasons:
1
This course makes great use of what I call "song based learning", which simply means that you're learning key techniques WHILE you're learning great songs at the same time.
As someone who's been in the guitar teaching profession for a long time, I can tell you that when we've broken down songs, piece by piece, and taught them step-by-step, our students upgraded their skills significantly faster than when we taught them one trick at a time.
2
You get taught by an incredible teacher that makes playing the guitar fun and simple.
Mike is a really gifted teacher because he's able to take a complicated subject like playing guitar, and verbalize his instructions in an easy, simple and step-by-step format that's fun to follow along with, and easy to understand.
This is a really rare ability to find in a teacher. (Which is why I got Mike to create this course.)
Most teachers overcomplicate things. Mike shows you how to play every song, technique and how to put it all together in a crystal clear way.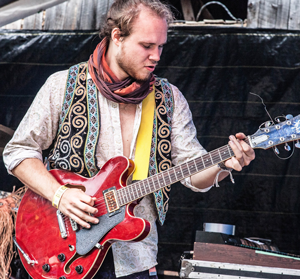 Who Is Mike And Why Is He Really Qualified To Teach You
Rock Solid Guitar Skills In Record Time?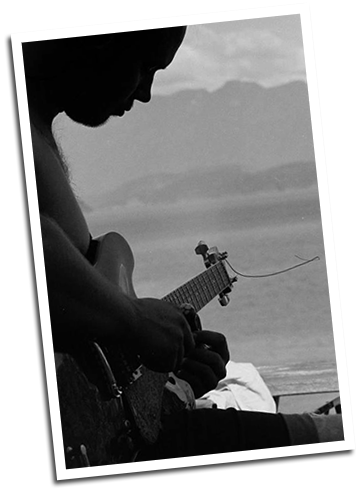 Mike Baelde has been playing guitar since the age of 9. He received his degree in music performance from the Berklee music College and won the Fred Sherratt Award distinguishing him as a top Canadian scholar. He is the head instructor for the Vancouver Guitar School, tours extensively in Canada, and has a worldwide following of students.
Here's what Mike's got to say on the subject of teaching and learning guitar:
"My philosophy on music and teaching is simple. The better you get, the more rewarding music becomes. A good teacher will simple guide a student to that point where they want to play and practice, by using a process that keeps the student having fun and engaged throughout.
There is no greater joy for me than when I see my students accomplishing their musical goals, so I've made it my main focus to help people succeed on the guitar. There is something here for everyone. No matter what your level, it is my guarantee that you will emerge a better guitarist after completing this series."
Dive Right Into "Song Based Learning"
With These 35 Classic Rock Songs
From The 60's and 70's.
Song #1: For What It's Worth, Buffalo Springfield.
Strumming this classic will teleport you straight back to the 60's. The verse in this one uses just 2 simple chords: E and A... which makes it quick and simple to play.
Beginner tip: In this lesson Mike shows you how to do the A chord using just one finger instead of 3... which will help you switch between chords a lot faster and easier, and allow you to do a ton more things with technique you discover in this course. - 3:15
Mike gives you the fast and easy way to play this song... Later he revisits it and teaches you the slap strum technique. (You'll get that authentic epic sounding "western tone")
Song #2: Sweet Child Of Mine - Guns N Roses.
Epic 3 chord rock. Are you ready to rock out? This Gun's N Roses' epic rock song consists of just 3 chords for the verse and chorus. In just a couple of minutes you'll be putting it all together and asking buddies of yours to start a rock band. - 6:40
Song #3: Brown Eyed Girl - Van Morrisson.
One of the best and easiest songs of all time. Hope you like this classic rock song from the 60's. It uses 3 of the easiest chords to strum: G, C and D. After watching this lesson, you'll be rocking out - even if you're an absolute rookie. - 9:49
Song #4: Blowin In The Wind - Bob Dylan.
Are you a Dylan fan? I hope so. Because this one's not just a legendary song, but it's got an easy strumming pattern. It's a delight that will remind you why you started playing guitar in the first place. - 12:52
Song #5: Patience - Guns And Roses.
Wanna woo your woman? Well that's what playing this song will have you doing... with just 4 of the most basic chords. If switching between chords has been a challenge for you, in this lesson Mike will show you a trick with your left hand to make switching between chords a cinch. - 17:37
Song #6: Who'll Stop The Rain - Creedence Clearwater Revival.
Transport yourself back to the good old days. Having any CCR song is great to have in your arsenal, especially when all your friends are classic rock fans like you are. As always, Mike dissects it piece by piece, making it super easy to follow along and play. - 21:23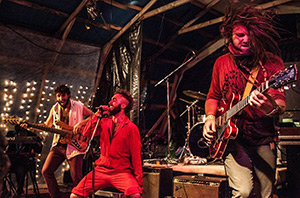 Song #7: Have You Ever Seen The Rain - Creedence Clearwater Revival.
The perfect song for playing around a campfire or at a gathering of any kind. Just imagine everyone singing along as you're strumming. You'll be the hit of the event.
Switch chords ultra fast. This is a great example because even though it uses 4 different chords, you barely have to move your fingers between related chords. - 26:48
Song #8: Sitting At The Dock Of The Bay - Otis Redding.
You'll nail the simple barre chords in this tune. Mike gives you his best tip for placing your index finger so playing this song becomes easy as pie.
This is a soulful tune that will have you whistlin' away. You also learn to do a "walk down" which is a technique that takes your chords to the next level. - 33:51
Song #9: Steady As She Goes - The Raconteurs.
Super easy reggae vibes. This hit from the 90's will add a whole new dimension to your playing.
Because this one's so easy to strum, you'll want to learn the lyrics and sing along. It's a super catchy tune to play. - 36:48
Song #10: Fly Away - Lenny Kravitz.
Dramatically upgrade your chops by combining the barre chord with the "chicka chicka" strum. You're going to sound like a whole new guitarist after playing this one. - 39:05
You're Going To Be Playing Songs With Your Eyes Closed
With This New Approach To Strumming.
Once you get strumming down, it's one of the most simple and automatic things you can do. Muscle memory just takes over. You don't need to think about it at all -- just like riding a bike or driving a car.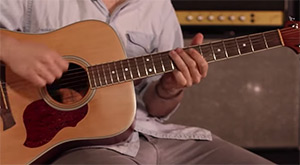 By the end of these lessons you'll get your strumming to the point where you don't even have to think about it.
Mike gives you a simple test to know when you've arrived at this level of automatic mastery.
He also gives you something you can practice while you're doing brainless activities like watching TV. So you can literally master the guitar while you're enjoying your favorite show. How cool is that?
Get the 3 Core Strumming Patterns
That Make Playing HUNDREDS Of Songs
Painless And Fun.
Strumming Pattern #1: "The Universal Strum"
This is without a doubt, the most important strumming pattern you'll ever learn... In fact, with this one pattern it'll be easier to play over 100 different songs. It looks as if all you're doing is strumming up and down. However, more is going on.
Strumming Pattern #2: "The Classic Rock Strum"
This is one of the most popular classic rock patterns especially on the acoustic guitar. With this pattern under your belt you'll be able to play songs from The Beatles, Bob Dylan, America, CCR, Van Morrison... and so many more.
Strumming Pattern #3: "The Groove Pattern"
This one looks really easy (and it is).. However, you can lose the groove if you don't know what you're doing. Mike's gonna show you the secrets for getting the timing and rhythm TIGHT.
PRO TIP: Perhaps the most important aspect of playing the guitar is keeping good time and playing with a tight sense of rhythm. Rhythm gives your music the pulse, the beat, it's what makes you want to dance... It's really almost everything. You even can mess up the notes and sing off key but if you've got tight rhythm, people are still going to be feeling in the groove.
By playing the songs in this course - with these 3 strumming patterns - your timing and rhythm are gonna be as solid as a two ton slab of granite.
Song #11: Hey Joe - Jimi Hendrix.
A ton of fun, and simple. Did you miss out on Woodstock? Well you're gonna get the full Jimi Hendrix Experience when you play this song.
In this course you're going to revisit "Hey Joe" a few times... and each time you're going to upgrade your sound and technique with new moves so by the end, you'll be able to recreate the FULL Hendrix "experience" with your guitar. - 43:05
Song #12: Rumble - Link Wray.
A classic, even if you don't know this song's name. Wen you hear it, you will definitely recognize it. It's got a very unique sound and you'll love playing this one for other people.
It uses the bridge upstroke technique, one of the strumming patterns you'll have learned, and introduces you to some easy fingerpicking. Playing this one really solidifies your chops with all you've learned so far. - 47:14
Song #13: Breathe - Pink Floyd.
Time to get psychedelic... though you won't have to take any drugs, because this song's gonna put whoever's around into a trance... including you.
Mike gives you a couple of golden tips about strumming and timing that you can use on any song you want to learn. - 51:22
Song #14: Best of my love - Eagles.
With just two easy chords and the "slap strum" technique, you'll be able to play this entire melody that became a #1 hit on the billboard hot 100.
This is an incredible song to have in your bag. Play it for your wife, by yourself, at a party, or at an open mic... it's sure to move the crowd, and because it's so simple, you can hardly go wrong. - 53:42
Song #15: Banana Pancakes - Jack Johnson.
Are you familiar with Jack Johnson? If you're not, let me tell you a bit about him: He's a modern day legend with 6 studio albums and dozens of hit songs from the past decade.
In this one you'll be playing a cool lick for the intro, using barre chords and incorporating the slap strum to get that groovy Hawaiian feel that's made Jack Johnson famous. (Playing this one will make you feel like you're waking up in Hawaii and having banana pancakes) - 1:02:30
Song #16: Ripple By Grateful Dead.
Conquer this pattern in minutes and get that "boom ba da boom" sound. The moving bass strum is a killer technique that really grooves here.
Ripple uses just 3 chords so it'll take you just a few minutes to learn this new technique and get good at it fast. - 1:11:00
Song #17: Folsom Prison Blues - Johnny Cash
Sing your heart out and strum like a pro. Get EXCITED 'cause this one is a ton of fun to play. - 1:17:20
Song #18: Delia's Gone - Johnny Cash.
Another Cash classic. It uses 3 of the simplest chords so playing it is great practice for mastering some classic strumming techniques.. - 1:21:30
Guess what, that's just on the first DVD. There's 2 more discs and a lot more great stuff here.
While you're playing all these great tunes, you're also going to be mastering the key techniques, like strumming.
Here's 4 Easy Strumming Techniques That
Turbocharge Your Sound And Will Make You Sound
Like You've Been Practicing Hard For Years.
Strumming Technique #1: The Bridge Upstroke
Did you know that you can create a totally different sound depending on where exactly you're strumming? The Bridge upstroke makes great use of this idea and gives you a really cool 60's "trembly twang" sound.
Strumming Technique #2: The Slap Strum
Decades ago, guitarists used this technique to make their one man show sound like a "1-man-band". Now its your turn. This really adds a depth and fullness to any classic song.
Strumming Technique #3: The Moving Bass Strum
This easy-to-use right hand technique adds a whole new dimension to your playing by creating the illusion that you've got a bassist backing you up. It might sound like an advanced technique, but there's some incredibly simple tricks to start using this method within minutes.
Strumming Technique #4: Create Your Own Strum Pattern
You'll get different approaches to create your own strumming patterns. Mike will show you how it's always ok to improvise your own pattern as long as you stay on beat. And he'll show you exactly how to do that.
Here's some more of the classic tracks you'll be playing:
Song #19: Ain't no sunshine when she's gone - Bill Wither.
Get your blues on. Because of it's simplicity, this one is a great song to get you started fingerpicking. It's a slow one, so you'll have plenty of time to switch between chords as you pick the strings with your fingers.
Song #20: Hallelujah - Leonard Cohen.
A universal classic (you don't have to be religious to enjoy it).
This is a great fingerpicking song that gets your fingers used to moving fast. Best part: It uses just two chords :)
Song #21: Landslide - Fleetwood Mac.
Another 2-chord masterpiece. Just like there are different strumming patterns, there's different fingerpicking patterns. Mike's gonna show you how to play this one really slow because it's picking pattern is a little unique.
This song loops the same pattern over and over. That makes it easy to sing over.
Song #22: Fast car - Tracy Chapman.
This late 80's hit is a great fingerpicking song that'll get your fingers doing all sorts of new things.
You'll incorporate some hammer-ons... it will build the muscles in your hands and take your fingerpicking skills to the next level.
Song #23: Blackbird - The Beatles.
This course wouldn't be complete without at least one Beatles tune.
A beautiful song to play and listen to... plus you'll learn the little known "brush strum" technique. It's easy to do, even if you can barely fingerpick today.
Song #24: House of the rising sun - Animals.
Classic rock alert! This is the perfect song to get started with arpeggios... Like many of these songs, the looping of the same pattern keeps it simple.
Song #25: Thank You - Led Zeppelin.
Time to get the Led out. This one's great because it combines arpeggios and strumming. You'll also be playing some killer suspended ("sus") chords that give you that mystical zeppy vibe.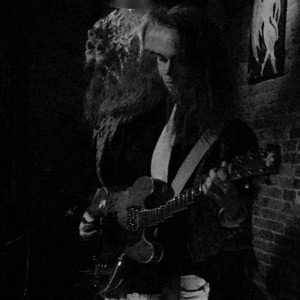 Song #26: Sweater Song - Weezer.
Weezer's a pretty hip rock group that got popular in the 90's. You may not know the name, but you've probably heard this one before.
What's cool is that it's got one of those dissonant chords that sounds weird by itself but really works in the context of the chord progression. And when you add the arpeggio pattern, get ready for some magic.
You'll Stop Struggling And Start Having Fun When You Discover The ABC's of Picking And Plucking.
In addition to all these great tunes, Mike is going to show you how the simple keys to mastering the most important techniques on the guitar. And you'll be doing things the RIGHT WAY, so you develop good habits. It's amazing how effortless things can be when you're shown how to do things correctly from the start.
These are the same methods that Mike acquired from his Berklee education and has passed along to thousands of his students:
The do's and don'ts of fingerpicking... why it's important to know how to use both regular picking and regular fingerpicking.
A 5 minute drill you can do to get massive improvements on a daily basis
How to strum like a pro, with or without a pick.
Finally master barre chords like you've been using them your whole life (even if you've been struggling with them forever)
Play arpeggios like a champ. They're one of the keys to sounding like a "hero", and you'll discover how to create gorgeous melodies using real song examples.
and much more...
Song #27: She's So Heavy - The Beatles.
Not your ordinary everyday 3 chord strum -- this song has a very unique sound to it.
You'll take your picking skills to the next level by tying together an arpeggio with a cool lick. If you've ever dreamed of playing at an open mic, this will be one of you go-to songs to play.
Song #28: Say It Ain't So - Weezer.
This song was originally recorded on the electric... however on the acoustic it's got a totally different feel. The acoustic gives it a much more raw and folky sound.
This song incorporates many techniques you've already learned so far. So this one will come fairly easily to you.
Song #29: Needle and the damage done - Neil Young.
Another classic that will bring you (and your audience) back to another place and time. Soulful sounds will flow from your guitar thanks to some cool arpeggio tricks that you'll get fast.
Song #30: My name is Jonas - Weezer.
A guitar workout! This one really takes your chops to the pro zone because of the fast tempo and arpeggios. When you get this one down you'll be ready to tackle any song that uses arpeggios.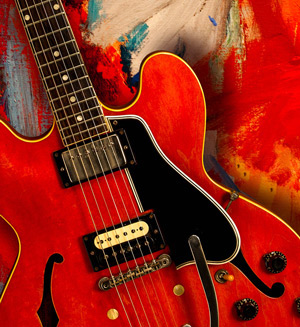 Song #31: Here comes the sun - Beatles.
A beautiful intro that feels like a ray of hope bursting through the darkness. As you play this, you'll also discover how to spice up ordinary chords by adding and removing notes. This is a technique that allows you to turn your same old chords into entire melodies to play.
Song #32: Wind Cries Mary - Jimi Hendrix.
You're going to tackle this sweet sweet Hendrix tune with your new approach to barre chording. Plus thumb chords, slap strumming, and other special "Jimi" techniques that really hit the spot.
Song #33: Under the bridge - Red Hot Chilli Peppers.
A monster tune that every guitarist loves. Several advanced techniques make this a gorgeous, groovy piece to play.
Song #34: The Pusher - Steppenwolf's version.
The secret of the "7th" chord. This is something you won't easily learn on your own. Like all the tunes here, you'll get the step by step, straight dope, no BS insider info on how to play a great song in the fastest, easiest way possible.
Song #35: Gimme Some Lovin - Spencer Davis Group.
In this song you'll be introduced to octave licks, and combining them with other techniques you've learned so far to create a wicked melody. It's super fun to play.
Now you'll really be sounding like a "Guitar Hero".
You'll Even Discover Some Advanced (but easy-to-play) Tricks That Will Take Your Sound To A Whole New Level.
Discover everything you can do with the D, A & G Chords. Like how to add and take away notes. And you'll get tons of variations of chords to do this with.
Turn a single chord into an entire melody. This trick alone transforms your playing from boring to ballistic. And you'll instantly be able to spice up any song you already know.
A chordal technique that makes playing rhythm so much more fun and interesting... you'll add variations and movement to your chords at any time. This is perfect if you've been stuck in a rut, playing the same old stuff..
Take your barre chords to the "zamner zone". This is what the pro's do. Hint: it'll give you an extra finger to add even more movement to your sound.
A big lesson on how to play a variety of harmonics. (those little notes that sound like a harp). Adds that extra special sauce to your sound... including some of the coolest tricks that Eddie Van Halen did. And you can even play them on acoustic!
Lenny Breau style tricks. These will allow you to play chords that you'd think are impossible on the guitar.
"Hendrix Chording". You're gonna love this one. It creates a "bluesy" feel to any song and truly one of the coolest ways to spice up your playing and add a whole new dimension to your sound.
Life Is Short... Here's Your Chance To Once-And-For-All Fulfill Your Dream Of Playing Great Sounding Guitar.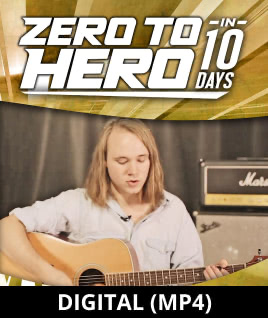 Zero to Hero in 10 Days Vs. Private Instruction
I'm not going to knock face to face lessons. However: they usually end up costing a small fortune. In fact, if you wanted to study with Mike in person, be prepared to dish out thousands of dollars.
Even at "normal" guitar lesson prices, just look at how expensive it would be:

DVDs save you thousands of dollars, because you're getting dozens and dozens of lessons that you can watch over and over.
This is it, my friend... Zero to Hero in 10 Days is the systematized course that will give you the insider info you need to play like a pro in record time.
I'd like to make your decision easy. So, here's the deal... If for any reason, (or even no reason at all) you decide this course isn't helping you learn to play some great sounding guitar in record time, you can send an email and I'll refund every penny immediately. There's no fine print and no hassles.

The Craziest Guarantee In The World!
Yes, you'll get a 365-day unconditional 100% money back guarantee (and that's just for starters).
Order these awe-inspiring guitar lessons... watch them... then sit down with your guitar... tickle a few strings...and then play a few riffs just to prove to yourself that you've really learned to play some sweet sounding professional guitar, faster than you ever imagined.
If it doesn't happen, just send us a quick email and I'll see that you receive a prompt refund of your money, no questions asked.
...But here's where it gets crazy:
First of all, if there's even a single disc that doesn't impress you in this package, you can send it back to me, KEEP the ones you love, and get a full refund.
You read that correctly -- you can actually keep part of the package, send the rest back, and i'll give you 100% of your money back.
People think I'm nuts for doing this.
On top of that, I'll even pay for the shipping for you to send it back. Just contact customer support, and we'll take care of you if you find this course isn't for you.
So you're literally risking zero.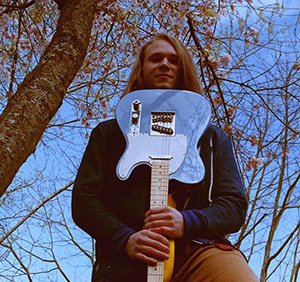 Grab all Zero to Hero Courses for only:
Retail Price:$207
Save $60 Today
Your Price:$147
Yes! I want instant access to these courses
Or Grab Just Zero to Hero Acoustic Only
Retail Price:$97
Save $28 Today
Your Price:$69
Yes! I want instant access to these courses
Its my way of doing everything humanly possible to put your mind at ease so I can earn your business and put these awe-inspiring DVDs into your hands today.
Am I Crazy?
Or Is This Course That GOOD?
I can afford to be so generous... because I know the TRUTH. You see... these lessons really do work! By simply following along with the DVDs and taking it slow at first, you'll be amazed how the music comes to life. It's almost like magic because it shouldn't be THIS easy and simple... but it is.
Just imagine inviting your friends and family over, and blowing them away with some classic songs... Jaws will drop and respect will be earned.
It's a no-brainer decision, so please click on the link below, fill out your information, and you'll soon be the proud owner of this Zero to Hero in 10 Days Course that will reward you for a lifetime.
We'll rush the DVDs right to your door, and you'll be able to start immediately. A world of fun awaits, so don't delay -- click the link below right now!
Keep Rockin',


Claude Johnson


P.S. If you're still not 100% sure if you should order right now, let me remind you of our sweet early bird deals and incredible 365-day guarantee. Don't delay, click here to order right now!